Bonci's Pizza, 24 hours fermentation pizza dough.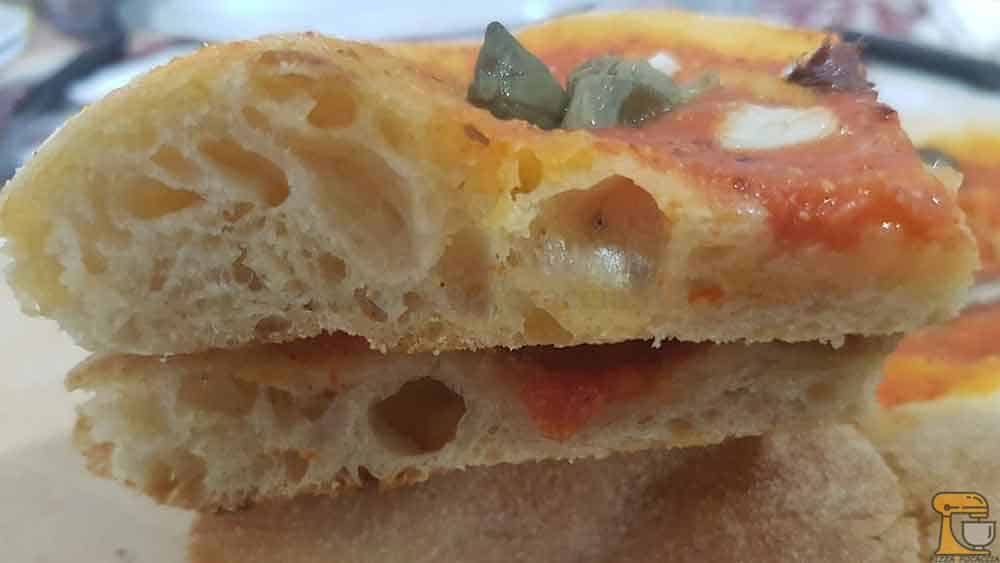 Bonci's Pan Pizza, it goes without saying, is a sensational recipe! Its dough leaves you speechless: it's so fluffy that it seems to spread out by itself. This is a 24 hours fermentation pizza that only requires one to three grams of dry yeast and really leaves satisfied and craving for more.
Bonci's Pizza is a METHOD which allows you to make pizza in an oven pan or using a pizza peel. It was created by Gabriele Bonci: the king of Roman Style Pizza! Bonci's pizza is completely different from the pizzas you are used to because the dough he uses is very hydrated and extremely light.
Some tips from Gabriele Bonci
The flour: the quality of the pizza mostly depends on the flour's features. Try to use organic, non-treated and stone milled flour as much as possible. Gabriele Bonci uses and recommends Mulino Marino's flours, which are available at Pizzarium, in Rome, or on Mulino Marino's e-shop.
Baker's yeast: for homemade pizza Gabriele Bonci suggests using dry yeast because it is not affected by thermal shocks.
Fermentation: a long fermentation time is the key feature of this recipe. It allows the flour to maturate and it will result in a light, airy and easily digestible product. Instead of leaving the dough rest in a worm environment for a short period of time, it is better to leave it ferment for 24 hours in the fridge.
Bonci's Pizza: recipe and preparation
Now let's dig into the recipe and go through the steps together! You can find a detailed schedule below.
If you enjoy my recipe, you can follow me on my Facebook and Instagram page in order to always be up-to-date on my recipes and on the latest news!
Bonci's Pizza: recap of the work steps
First step
Flour
Dry yeast
Water
20 minute pause
Salt
Water
Oil
20 minute pause
Second step
First cycle of folds
20 minutes pause
Second cycle of folds
20 minutes pause
Third cycle of folds
24 hours bulk fermentation in the fridge
Third step after 24 hours
Bring the dough to room temperature
15 minutes pause
Split the dough into smaller pieces (if needed)
Shape it
2 to 5 hours pause (depending on the temperature)
Spread the dough
Place the dough in the pan
Fourth step
Bring the oven temperature to 250 °C (480 °F)
Place the pizza on the lower shelf of the oven for 8 to 16 minutes
Move it to the upper shelf for another 5 to 10 minutes
Let it cool down
Bonci's Pizza, 24 hours fermentation pizza dough
PIZZA BONCI: video stesura e integliamento